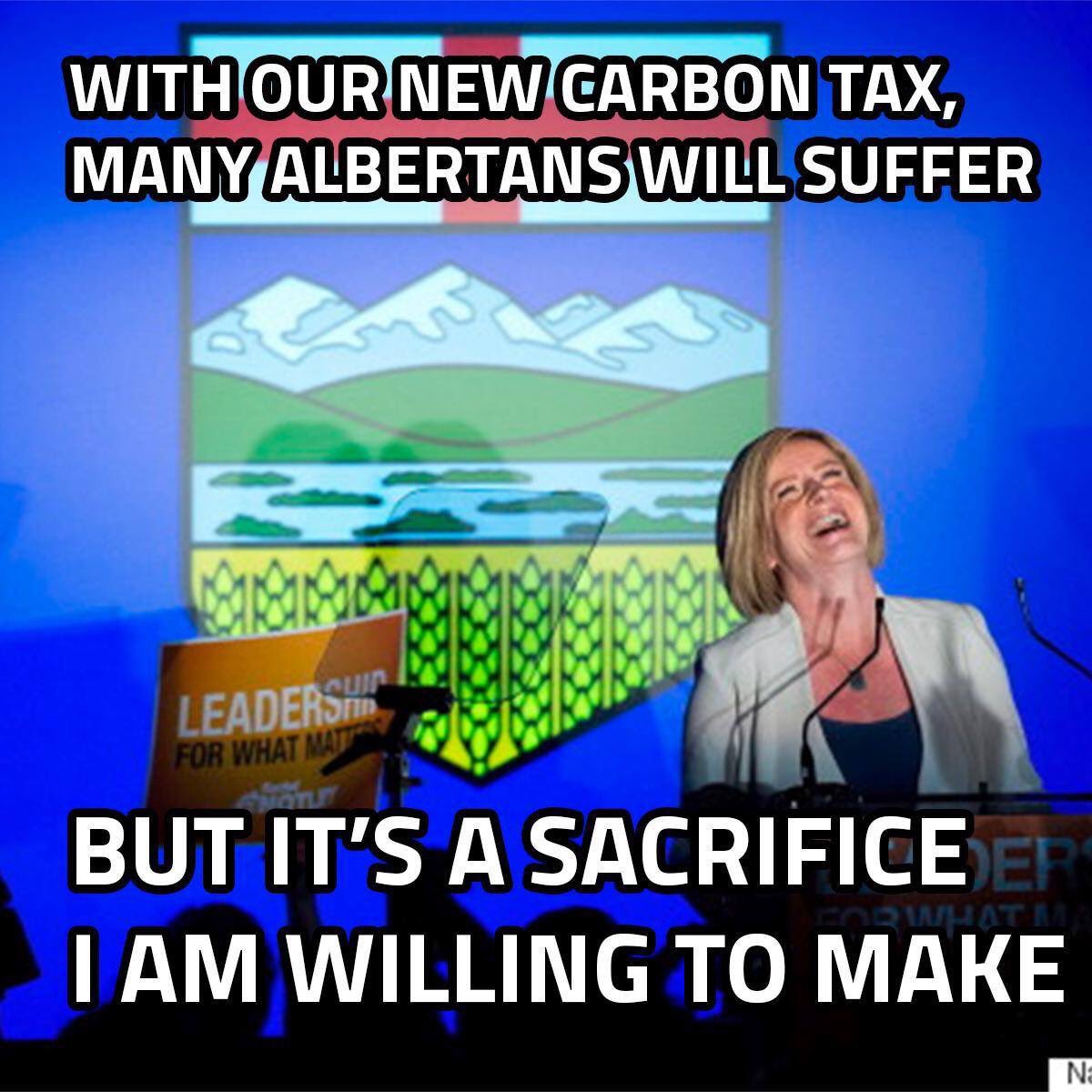 "What have we done Albertan's"? During the election campaign, Ex-Premier Jim Prentice asked us to look in the mirror, and the populous rebuked him and turned against him. We now have a Premier bent on changing our way of life under the guise of what Ms. Notley calls Climate Change (previously known as Global Warming). Premier Notley stated in her address to the NDP convention"We have to step up & be a big part of the solution to one of the world's biggest problems. On climate change, we're leading the way!" Does this statement mean we fall under the "100% Clean and Renewable Wind, Water and Sunlight (WWS)" vision articulated in reports written by Mark Jacobson, Mark Delucci, and others? This vision seeks to eliminate the use of all fossil fuels (coal, oil, and natural gas) in the world by 2050. Jacobson, Delucci et. al. have published "all-sector energy roadmaps" which I believe Ms Notley is using as her foundation for Alberta's Climate Change Plan.
Perhaps the following link will reveal what it will cost us as Albertans to fund Premier Notley's dream and vision for Alberta.
@FriendsOScience: .@tedclugston FYI Cost of subsidies to the wind and solar in #abclimate plan Expert: https://t.co/mgBof0KYsl
What I see being revealed by Michelle Stirling, Communications Manager @May 2015 in consultation with power generation industry experts, this could very well be the annual cost for us to have ineffective power, brownouts, surges and drops "So 3,000 MWs subsidized at $35 MWh = approx. $900 million a year in cost subsidies paid by the Government of Alberta – you, the taxpayer".
This situation is what Calzada predicted in 2009—he cautioned in his testimony before the Senate Environment & Public Works Committee, The feed-in price system, and the bubble produced a deficit to the energy distributors (called the rate deficit) that the government promised to repay. The rate deficit (mainly produced by renewable subsidies) that started in year 2000 with 250 million Euros and in year 2008 was already 5 Billion Euros, has now an accumulated amount of over 16 billion Euros (more than $23 billion USD)…Our experience shows this will be economically harmful for consumers of electricity and for the society as a whole. The only ones who benefit…and benefit handsomely…are the corporate interests who are paid princely sums for their fashionable but inefficient energy.
Now Premier Notley went on to state in her speech "Within limits of what a govt can do, we need to work to make AB more economically resilient & less vulnerable to price shocks."                                           
I am wondering if Premier Notley is willing to cooperate with the Producers as we see their Reaction to Alberta's 'ambitious' climate change plan | Globalnews.ca
The CAODC also called on Notley's government to reduce oil and gas royalties by the incremental increase from new carbon taxes.
"Alberta is one of the highest cost jurisdictions in the world to operate. The introduction of new carbon taxes, unless offset by lower royalties, has effectively reduced Alberta's competitiveness and future employment through additional costs. To offset these additional costs, lower royalties should be considered," Scholz said
The group said the future of the industry in the province remains uncertain "in the absence of leadership to advocate for pipeline infrastructure and access to international markets."
Then you have the Solar Energy Society of Alberta pointing out the plan will phase out coal by 2030–a "commendable" step–but will include the use of natural gas for the baseload of Alberta's electrical grid.
"Unfortunately, Alberta will continue to expand its natural gas electrical generation, which will only hinder our ability to meet science-based emissions targets, instead of investing more ambitiously in renewables," said Leon Milner, assistant executive director of Solar Energy Society of Alberta, adding emissions will still exceed 2013 levels by 3 Mt by 2030.
"The best science from the United Nations Intergovernmental Panel on Climate Change (IPCC) to limit global temperature rise to 2 degrees Celsius or below is that global greenhouse gas emissions must fall 20 to 40 percent below 1990 levels between 2020 and 2030. As Alberta's 1990 emissions were 175 Mt of CO2e, the target of the Alberta government of limiting 2030 emissions to 270 Mt will exceed this target by about 50 percent," said Godo Stoyke of Carbon Busters.
Alberta Party Opposition Leader Greg Clark also supported the plan, hoping the strategy will be used to "unapologetically promote market access for Alberta industry."
"That said, I am concerned about the scale of the carbon price and the fact the plan is not truly revenue neutral – it still comes at a cost to the average Albertan. I would have liked to see tax cuts, but support the investment in R&D [research and development] and green technology," said Clark in a statement.
So here we have the Premier stating "In short my friends when times are tough, we have people's backs, exactly like we said we would during the election." "Instead of austerity that makes things worse, we are helping people absorb this shock, to promote prosperity, diversification & jobs." 
I am wondering if Premier Notley's advisors and herself have looked at the current stats of what is happening in Alberta. If this is having the backs of Albertans and replacing Austerity, which in her words makes things worse. Then in my estimation according to these current stats displayed below about current unemployment and bankruptcies are showing Premier Notley's words are just political fodder bolstering her followers and are unfulfilled philosophical ideals.
Unemployment Rate
Analysis
PUBLISHED – Jun 10, 2016
In May 2016 Alberta's seasonally adjusted unemployment rate was 7.8%, up from the 5.9% rate that was registered a year earlier and up slightly from last month's rate of 7.5%. The national unemployment rate was 6.9% in April, up 0.3% from last year's rate. Alberta's youth unemployment rate was 12.5%, up from last year's 10.9% rate. Both male and female unemployment increased from last year to 8.5% and 7% respectively.
Business Bankruptcies
Analysis
PUBLISHED – May 31, 2016
The number of business bankruptcies is increased by 14.3% from 7 in March 2015 to 8 in March 2016. Nationally, business bankruptcies decreased by 5.2% in March 2016 to 293 bankruptcies. Alberta accounted for 2.7% of all business bankruptcies in the country in March. Alberta consumer bankruptcies increased from 387 in March 2015 to 515 in March 2016, an increase of 33.1%.
So my question is how out of touch is Premier Notley in her approach and beliefs about our environment and its real condition? The other issue I have is why is the current science being offered set aside and ignored?
Click to access why-renewable-energy-cannot-replace-fossil-fuels-by-2050-june-16-2016-final-rev.pdf
It is this type of information which is being ignored as overall information required to make sound intelligent decisions about our environmental future. Is the following statement possibly what Premier Notley is using as the foundation of her Climate Change Plan and the basis of this quote  "We have to step up & be a big part of the solution to one of the world's biggest problems. On climate change, we're leading the way." 
As quoted from WHY RENEWABLE ENERGY CANNOT REPLACE FOSSIL FUELS BY 2050 Contributed by Robert Lyman © May 2016 " A number of environmental groups in Canada and other countries have recently endorsed the "100% Clean and Renewable Wind, Water and Sunlight (WWS)" vision articulated in reports written by Mark Jacobson, Mark Delucci, and others. This vision seeks to eliminate the use of all fossil fuels (coal, oil, and natural gas) in the world by 2050. Jacobson, Delucci et. al. have published "all-sector energy roadmaps" in which they purport to show how each of 139 countries could attain the WWS goal."
The following is Mark Jacobson, and Mark Delucci, mandate as published in 2010 and I believe Premier Notley has bought into this folly hook line and sinker and is usuing this philosophy as her Climate Change Plan:
Providing all global energy with wind, water, and solar power, Part I: Technologies, energy resources, quantities and areas  of infrastructure, and materials
Mark Z.Jacobson a,n, MarkA.Delucchi a Department of Civil and Environmental Engineering, Stanford University, Stanford, CA 94305-4020, USA
Institute of Transportation Studies, University of California at Davis, Davis, CA 95616, USA
Article  info/Article History: Received 3 September 2010
Accepted 22 November 2010
Available online 30 December 2010
Keywords: Wind power Solar power Water power
ABSTRACT
Climate change, pollution, and energy insecurity are among the greatest problems of our time. Addressing them requires major changes in our energy infrastructure. Here,  we analyze the feasibility of providing worldwide energy for all purposes (electric power, transportation, heating/cooling, etc.) from wind, water,  and sunlight WWS). In Part I, we discuss WWS energy system characteristics, current and future energy demand, availability of WWS resources, numbers of WWS devices, and area and material requirements. In Part II , we address variability, economics, and policy of WWS energy.We estimate that 3,800,000 5MW wind turbines, 49,000 300MW concentrated solar plants, 40,000 300MW solar PV power plants, 1.7 billion 3kW rooftop PV systems, 5350 100 MW geothermal power plants, 270 new 1300 MW hydroelectric power plants, 720,000 0.75 MW wave devices, and 490,000 1 MW tidal turbines can power a 2030 WWS world that uses electricity and electrolytic hydrogen for all purposes.
Such a WWS infrastructure reduces world power demand by 30% and requires only 0.41% and 0.59% more of the world's land for footprint and spacing, respectively. We suggest producing all new energy with WWS by 2030 and replacing the pre-existing energy by 2050. Barriers to the plan are primarily social and political, not technological or economic. The energy cost in a WWS world should be similar to that today.
& 2010ElsevierLtd